Painting Workshop – Forest of Tranquility
Sandy Walsh's painting workshop
"Into the Forest"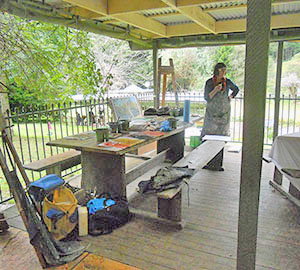 Join Sandra Walsh for a unique 'c' (En plein air  is a French expression which means "in the open air").
At Sandy's Painting Workshop you will learn how to develop your personal point of view towards the landscape, and explore options of technique in your chosen, favourite medium.
All levels of skill are welcome.
Suggest you bring:
a camera or use your mobile phone camera
Canvas &/or Board with paper secured by tape &/or clips
Portable easel or table plus chair or stool
Your favourite art materials for drawing or painting
Or maybe you want to try something new!
Oils, acrylics and mediums, inks, watercolours, pencils, crayons, charcoals black and coloured, pastels. Sandra has experience in any medium.
Workshop themes vary monthly with last Sundays of the month before High Tea.
Enquire about our discount for Painting AND High Tea.
Cost: $60.00 pp (Minimum of 5 & maximum of 10)
Session one: 10.30 am to 12.00 noon
Break : 12.00 noon to 12.30 pm
Session two: 12.30 pm to 2.00 pm
Specialised Painting Tuition for your 'Year 11 and 12 HSC Major Work'
Sandra has had many years of experience with extended studio practice for High School Students. If you have your concepts or you don't, Sandra's "into the forest" workshop will help you develop ideas, approaches to techniques and possibilities.
Bring your Art Diary, wear old comfortable clothes and bring your morning tea and lunch + water for drinking.
Bring your cameras or use your phone camera make sure they are fully charged Solar charging devices are a thought? Already thinking outside the square?
Come prepared for outdoors
Wear comfortable clothes, walking shoes or boots and a shady hat.
All materials used in art making are to be removed from site when you leave.The Forest of Tranquility is an Eco site, and we need to keep it that way. Bring containers for all liquid removal
Artwork created in the workshops will be photographed by Sandra with your permission, and displayed in promotion of the workshops & the Forest of Tranquility.
Visit Sandy's website: www.artnarara.benw.info
[dopbsp id="5″ lang="en"]