Pirates, Mermaids and Water Bugs – Forest of Tranquility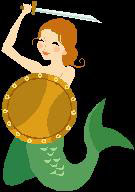 Come 19th of January 2014 for an adventurous filled day at the Forest of Tranquility with pirates, mermaids and water bugs..
10.30am Help build a pirate ship, rescue Mermaids, and stop the Sea Monster from hurting the ocean.
Lunch break at 12pm
12.30pm – help look for and collect water bugs from the beautiful 'Forest of Tranquility' Creek and learn how to identify them in our outdoor class room from our expert 'Water Bug lady'
2pm – Explore the tranquil 5 km rainforest walk with your family
When – Sunday 19th January 2014
Time – 10.am for 10.30am start
What to bring – Picnic Food for all the family, good walking shoes,sunscreen, sunhat and insect repellent (wet weather gear if it rains and we will be under cover if it does rain for all activities)
Dress – (including Mum, Dad, Grandma, Grandp). Wear Pirate, Mermaid, or Sea Captain Clothes, or you could wear blues and greens to represent the water colours for our fun filled day.
Cost – $20.00 per Adult, $15.00 per child or $60.00 per family of 2 adults and 2 children
Please book by email info@forestoftranquility.com
"See you there me hearty's!"