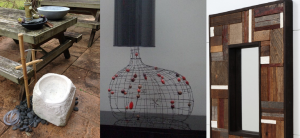 Sculpture Workshop – Forest of Tranquility
Overview
This is a fun art/sculptural activity – sculpture workshop – where you'll enjoy some artistic exploration in carving with Hebel, wirework, recycled and natural materials, layering and assembling. Taking inspiration from the surrounding forest, you'll have fun creating your own unique sculpture or art work.
Participants can experiment with a variety of art materials and collaborate to create individual pieces. Creations produced in previous workshops include the making of musical instruments, water features, lamps, picture frames, birds, animals, or even a coat rack to take home.
Dress Code
Please wear old clothing as this is a hands on workshop.
Warm clothing is recommended as the venue is under-cover but outdoors and is in a pristine rainforest environment that is subject to weather changing quickly in the afternoon.
Cost: $100
Inclusions:
Tea and coffee.
Bring work tools for project, gloves and over shirt to protect clothes. A Professional artist will be tutoring and will assist where needed. Hebel blocks, wire and other materials can also be purchased on the day.
Bookings
Please use the booking calendar to make your booking and check when the next course is being held.
Numbers: Maximum 14 attendees
Do something unique and special.
Sculpture Workshops are a fun way to explore and express your inner creativity.