Irene Anton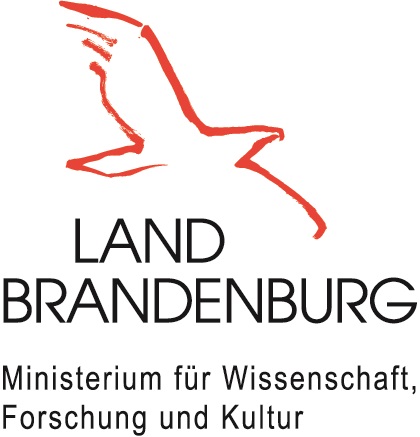 Irene visited us in 2015, courtesy of a sponsorship from Land Brandenburg, to develop our future sculpture symposiums. Selected artists will be invited to create works for our Sculpture Trial.
"re-cycle" by Irene Anton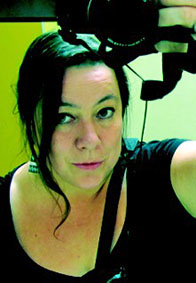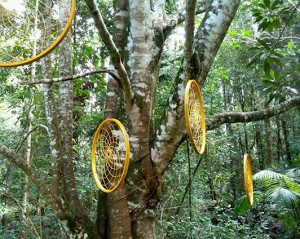 "re-cycle" is an installation based on old bicycle wheels and the dream catcher weaving technique of north American aboriginal/indigenous Indians.
Originally those dream catchers were made to take away nightmares from people trough the center of the circular fractal web, by hanging them above the beds.
My personal interpretation is not just taken keeping nightmares away, but leading from one layer to another one inside a matrix, escaping mentally through the holes, submerging into another poetic world of art. It's accompanied by the wonderful, already existing exotic forest nature sounds (well, at least to me as a European lady those sounds are quite exotic). This installation, which is divided into two parts, is also dealing with the issue of reincarnation – going from one level to the next, creating new things from old ones.
The first part of the installation is the colourful looking one at the entrance, which is attracting the visitor to approach the forest, the second one, which is located inside the forest, is the more mysterious one, which still leads deeper inside and might give an impulse of philosophical reflections.
About Irene Anton
I'm Irene Anton from Berlin. Well, I was born in the south of Germany in 1966, grew up in the west of Germany, went to the Netherlands for two years and finally moved to the east of Germany, Berlin – in 1989, just before the wall was coming down. In between of my lifetime in Berlin, I had an intermezzo of two years, living in Barcelona-Spain. Berlin always used to give me a lot of inspiration, because it's an eternally changing and moving city, where you need to look for and discover it's very special and partly pretty rough beauty. In Berlin, you are not living in a nice "postcard" – city and are confronted with a lot of daily realities. This keeps me awake. I consider myself as a multifaceted artist. The variety of my work consists in design, painting, stained glass, object, installation and land art.In my recent work I use to create in – and outdoor installations and objects for fields, forests and lakes, mostly playing with the power of the elements by mainly using textile materials. After having worked with glass and metal trash materials, another recent development in my work is the creation of small textile objects or those that are in context with textile materials and techniques. I'm working with various textile techniques, like for example weaving, knitting, sewing, quilting, application or any other mixed technique. In my object/relief-work I'm creating textile topographies by modelling fabric on canvas or sewing/quilting structures into the unicoloured fabric. My installations are often inspired by nature and natural shapes and structures, like for examples my networks, made of tights.
Irene Anton's Resume is on page 2.