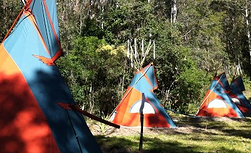 Time: 4pm Saturday till 4pm Sunday 
Weekend Package Inclusions:
Tipi Accommodation

Forest Talks

Forest Walk

High Tea

Guided Tour

Yoga

Dinner

Breakfast/Brunch
A Tipi Weekend Package at the Forest of Tranquility
Central Coast Eco Tours is dedicated to increasing awareness and enjoyment of our natural environment. It provides experiences that provide access with appreciation of our natural systems. It does so in such a way that does not inhibit future travellers from enjoying the same experience and to contribute to preserving the quality of the regions abundant natural ecosystems.
OVERNIGHT TIPI  PACKAGE ITINERARY
This package is unavailable during our Firefly Magic Season 2016.
Tipi Accommodation – Overnight. Book in from 4pm. Stay overnight in Traditional Native American Tipis at Sydney's best surviving Rainforest. An overnight stay is the perfect base for you to 'Experience the Magic' of the Central Coast's Australian Rainforest.

6.00pm – 9.00pm: Dinner with Guided Twilight Walk
Dinner is provided along with a guided twilight tour of the Rainforest to reveal its night secrets. In the months of November & December our Firefly Magic Twilight Festival Season (FFMTFS) opens. The natural light show is a natural phenomenon that occurs around dusk in our unique microclimate. Dinner and night tour times will vary throughout the season along with Live music with songs about the earth and nature. Your guide explains the secret signals of the flashing lights and takes you into our Australian Rainforest. (Bookings with payment are required 2 months in advance)

6.00am – 8.00am: Breakfast

A selection of muesli, nut & fruit mix, rice crackers, juice, water, muffin and snacks for your breakfast on Sunday. You can breakfast in a quiet and personal area or in our communal space.
8.00am – 10.00am: Forest Walk and Guided Tour

Stretch your legs with a walk into the world of the Rainforest in the company of your Eco guide. Learn about the life and times of an authentic Australian Rainforest. Hear about the history and environmental importance of a forest to the ecosystem and its flora and fauna inhabitants. Your guide will lead you into the 5 km of Rainforest Trails, leaving you to explore and feel first-hand the forest magic. After your forest magic you will return to join a Yoga class.
10.00am – 11.00am: Brunch Break

Time to Relax in the Forest. Enjoy a break and relax in the Forest Park with a selection of food from your Brunch Bag.
11.00am – 12pm: Yoga
One hour class of traditional Yoga. Your instructor will take you through basic yoga moves and show you how to balance the mind and soul with the natural surroundings. Time to change your clothes for High Tea at 1pm.
1.00pm – 4.00pm: High Tea
A quirky afternoon Upmarket High Teas can be experienced in the tranquil and beautiful rustic setting.  Emilia will be hosting in the main Pergola a selection of teas and a variety of sweet and savoury treats. Local Sculptors, Artisan and Musicians contribute to this amazing and unique experience on Sunday afternoons.There is time to see the sculptures on exhibition, relax and unwind or take a stroll in the Rainforest, listen to music from local songwriters & musicians. Hear from our  local Artisans about their work and passion.

NOTE: The schedule or events may vary or be modified depending on availability of guides, instructors, Firefly Magic Twilight Festival Season and weather conditions.
Enquiries:
Please email: tipis@forestoftranquility.com